Cochran Sisters

LOVE

music! In fact, we are doing this post together down here in Tallahassee! We got inspired as Callie (1965 daughter) was looking at old CD's to download to her old decrepit "not an itouch" Ipod from her Aunt Kim's & her mom's college days at UGA....(aka..."jack" some music from my kinfolks")...good times at the Lambda Chi Alpha House and Chi Omega House on Milledge Avenue! (Hooty-Hoot! We sure do love us a band party)..Mr. O and Mr. Left Brain could not dance...They did the stand still and bend your knee thing...But...the Soul Sister...Oh we got some soul and some rhythm....
The Elvis CD cover was done by Mary Frances in 2nd grade. You see she had to do a biography on a famous American while she was in Mrs. Danford's class @ HCES. (WE LOVE Mrs. Danford) Anywho - I was like...oh great another project...lets do someone fun...just kinda didn't feel to excited about Abraham Lincoln or Merwether Lewis! So, we both agreed to do ELVIS! This was a fun project. She had to write the biography after reading the book. Then she had to do a presentation for the class. Yep, she designed an album cover for her book report cover and then she burned CD's for the whole class with all kinds of good Elvis music on them! Don't you know that Mrs. Danford was glad to see this project come along after having sat through 20 other projects on people that didn't have the creative juices flowing like Mary Frances and Elvis! (sidestory time...oh yeah...it is now 1965...did you know that elvis said, "God loves me, but He loves me best when i sing."...well he did folks.....he said it...end of sidestory)...
When I taught middle school art in GA at RSMS we would do this for one of our projects creating a CD Cover. I guess it depends on how old you are on whether you call it an album cover, 8 track label, cassette cover or a CD cover...hee hee...I think I have been around for all of those because our family is

REALLY

into MUSIC! We like to Shake Rattle and Roll with the best of them! (Hey Janna glad you are ghost reading our blog....please leave us a comment and shake..shake... shake... shake your boodie...just like KC and the Sunshine Band did!)
Lesson Plan Idea:
Title - Design a CD Cover

Subject - Music (what ever kind of music you like....rock, jazz, oldies, progressive, country, folk, instrumental)

Secondary Subjects - Art

Grade Level - any grade level depending on the way the lesson is presented

Objective: This lesson should be used while teaching a lesson on how advertisement works in music. The goal for the hands-on portion of the lesson is for the students to design their own CD cover as an advertisement. Coolzy- just how would you want to market your CD cover? Think of all of the questions that can be brought up in class over this!
Procedure: The students are told that their CD cover must be appropriate (ya know....this is that gray area of what they listen to at home and what is appropriate for school!), and the students must make up their own name of the group or artist they're designing the cover for. They may not use any groups that already exist. I tell them that they may design the cover any way that they'd like however it should be appropriate. You may suggest that they come up with a design that somehow describes the type of music this band makes. This has worked very well!
hiya friends...it is 1965...now i like these cd covers...just a putting a little flavor in ur jelly bean...since Easter is a comin'!
artsy, but not seeing any artist influence...if you do, cool beans!
i am feeling some andy warhola!
oh, i am smelling some sweet keith haring!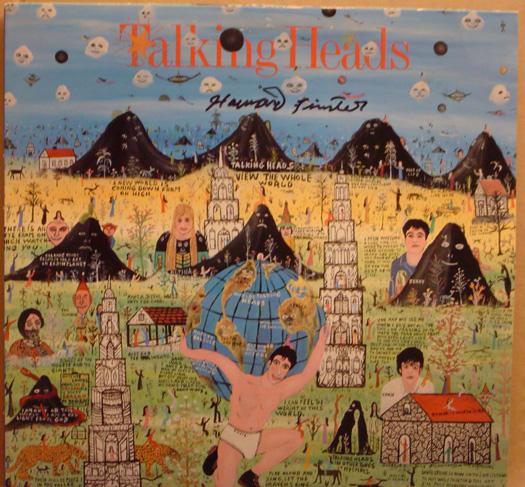 "and she was" howard finster and folky in 1985
we end this post...

together

...in the sunshine state...
here's a picture for ya...
these boots are made for walking...and that's just what they do...one of these days these boots are gonna walk all over you...are you ready boots?...start walkin' (nancy sinatra, 1966)
go nancy...frankie daddy was soooooo proud of you!